29/11/2021
Winter break on the boat..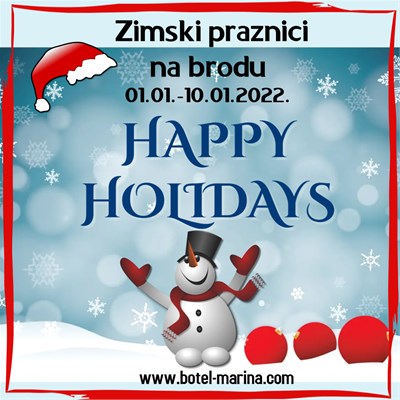 It is winter, but it is still the right time for the joys of the sea.
With the beginning of the new year, starts our great offer for children, moms, dads, grandparents...the whole family. Botel Marina is the right place where you all can cheerfully and relaxedly "sail" into the new adventures of the new year. In the period from the first to the tenth of January (if you stay with us 3 or more nights), all our accommodation is just for you 30% cheaper. Adults do not have to worry about cooking either, our restaurant will make sure that everything is delicious and prepared just on time, according to your wishes. Last, but not the least, we have prepared free tickets for all of you, to swim in the pools of Kantrida, for evenings of observing the starry sky in the Astronomical Center of Rijeka, to visit the city museums, but also the Trsat castle. When the walk through the busy city is over and is slowly getting dark, sit with your lovedones on our deck and enjoy. For everything else, you have us.