06/03/2021
RIJEKA CITY BREAK 🚢 MARCH UNTIL MAY🚢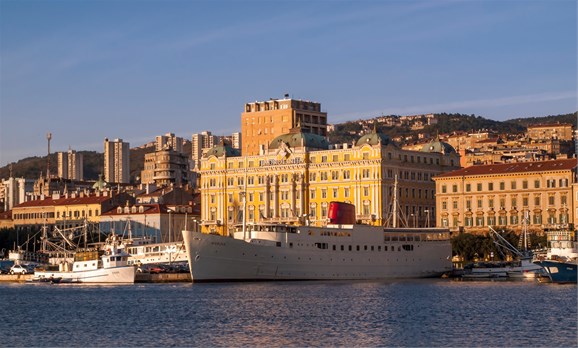 Get ready for exciting Rijeka city break, because this extraordinary city has so much to offer.
We are offering our special packages for all of you who want to enjoy the sights of Rijeka and visit various events throughout the year. So whether you're on your own, a couple or with a family, visit us and enjoy the comfort of our charming rooms, relaxing moments in a real boat ambience overlooking the marina and the harbour in the heart of Rijeka city.
Experience the sights, sounds, flavours and energy...Wander along, soak up the atmosphere of each distinct neighbourhood and explore some of the city's most gorgeous spaces, finding the perfect spot for yourself. Take our hotel bicycle and make your own bike tour.
Every corner reveals a different aspect of rich history of the city and as a welcome gift we want to treat you with free tickets to make a visit to Rijeka's City Museum - Sugar Refinery Palace and another exhibition called Torpedo of Rijeka. After visit, we suggest you to come to our coffee & wine bar, there is another treat for you, free cup of our excellent coffee. We are looking forward to be a part of your culture and coffee experience.
When evening comes our well known restaurant pairs stunning waterfront views with a special menu featuring only the best selection of regional, home-made food complemented with selection of exclusive wines.
Sail with us in a new adventure and become our dear guests.
City break I. includes:
Accommodation with half board for one person

Free parking

Free use of fitness area

Free use of hotel bicycle

Free Wi-Fi

Free tickets for a visit to Rijeka's City Museum - Sugar Refinery Palace and exhibition Torpedo of Rijeka, after visit free cup of coffee at the coffee&wine bar

Free baggage storage until departure
Total price for one night: 462,72 kn
Total price for two nights: 925,44 kn
City break II. includes:
Accommodation with half board for two person

Free parking

Free use of fitness area

Free use of hotel bicycle

Free Wi-Fi

Free tickets for a visit to Rijeka's City Museum - Sugar Refinery Palace and exhibition Torpedo of Rijeka, after visit free cup of coffee at the coffee&wine bar

Free baggage storage until departure
Total price for one night: 719,40 kn
Total price for two nights: 1.438,80 kn
City break III. includes:
Accommodation with half board for three person

Free parking

Free use of fitness area

Free use of hotel bicycle

Free Wi-Fi

Free tickets for a visit to Rijeka's City Museum - Sugar Refinery Palace and exhibition Torpedo of Rijeka, after visit free cup of coffee at the coffee&wine bar

Free baggage storage until departure
Total price for one night: 992,40kn
Total price for two nights: 1.984,80 kn
City break IV. includes:
Accommodation with half board for four person

Free parking

Free use of fitness area

Free use of hotel bicycle

Free Wi-Fi

Free tickets for a visit to Rijeka's City Museum - Sugar Refinery Palace and exhibition Torpedo of Rijeka, after visit free cup of coffee at the coffee&wine bar

Free baggage storage until departure
Total price for one night: 1.255,20 kn
Total price for two nights: 2.510,40 kn